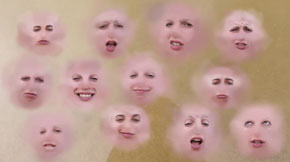 Suso Phizer
[United States - edition: 10]
Suso Phizer is an artist from St. Louis, Missouri, currently living and working in Brooklyn, NY. Suso makes primarily video and installation work, and has upcoming solo shows at Wayfarers in Brooklyn, NY, in June, and at Bunker in Pittsburgh, PA, in August.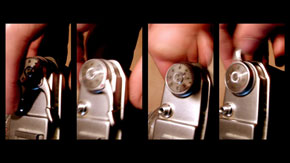 Jean-Michel Rolland
[France - edition: 10]
Jean-Michel Rolland is a French artist born in 1972. A musician and a painter for a long time, he melts his two passions - sound and image - in digital arts since 2010. At the origin of each of his creations, musicality plays a role as important as image does and each one influences the other in a co-presence relationship. The result is a ...
[read more]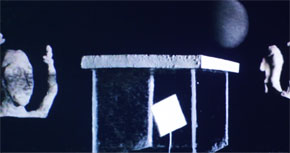 Carl Knickerbocker
[United States - edition: 10]
Self taught Suburban Primitive artist from Middle Florida. Began making art in 1984. Making video since 2009. My work is mostly a one person operation. Practically no budget.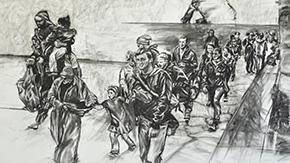 Evelyn Kreinecker
[Austria - edition: 11]
Evelyn Kreinecker Regisseur, producer, artwork Born 1971 in Grieskirchen, Austria Lives and works as a freelance artist in Prambachkirchen, Austria Her work ? which includes painting, drawing, prints and animated film ? reflect the coherences of human existence, exploring the space between public and privacy. films: Flucht , 2:38min, 2015 ...
[read more]

Cecelia Chapman, Halo Svevo
[United States - edition: 10]
Cecelia Chapman is an American visual artist based in California. Halo Svevo is a German sound artist. Jeff Crouch is an internet artist living in Texas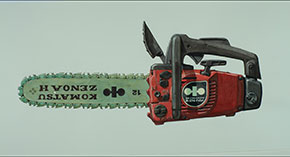 Luce Grosjean
[France - edition: 11]
Alain Biet graduated from the Orleans Beaux-Arts in 1982. A protean artist, he explores sculpture, photography, drawing, video, music, performance and more. Lecturer at Orleans Beaux-Arts from 1985 to 1990, he has since been teaching at Blois Beaux-Arts. He is a member of various collectives, including Oulan Bator in Orleans, works with La ...
[read more]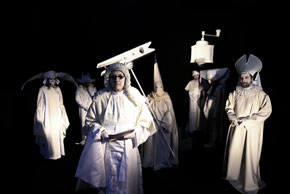 Vincenzo Giugliano
[Italy - edition: 10]
Bio Vincenzo Giugliano was born in Napoli in 1969. He holds a degree from the Reale Accademia di Belle Arti di Napoli in fine arts and set design. He has shown his work in individual and collective exhibits in Milano at the Secò Studio and le Visionnaire and also in Paris at la Galerie de l'Entrepôt, Ismery's Gallery, Spazio Biuglioni, ...
[read more]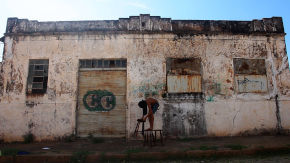 Joacelio Batista
[Brazil - edition: 11]
Lives and works in Belo Horizonte, Brazil. Master in Contemporary Artistic Creation at the University of Aveiro, Portugal. Degree at the School of Fine Arts of the Federal University of Minas Gerais - UFMG. Acts as a Visual Artist, filmmaker and videomaker. His artistic research is done in the noise that emerges from translation attempts that ...
[read more]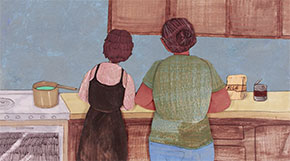 Pilar Garcia-Fernandezsesma
[United States - edition: 11]
Pilar Garcias-Fernandezsesma is a RISD animation student in the class of 2020. She was born in New York City to Spanish immigrants and has loved art all her life. Pilar's work tends to focus on empathy and individualized stories. Her work medium varies from more traditional methods to computer techniques, and her concepts range from character ...
[read more]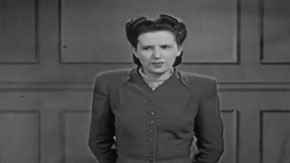 Othniel Smith
[United Kingdom - edition: 10]
I have made a number of films which are mash-ups of public domain video and audio. I am also a writer for television, radio and theatre.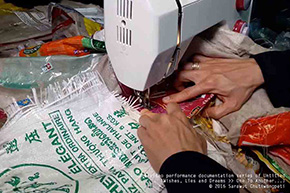 Sarawut Chutiwongpeti
[Thailand - edition: 11]
Sarawut Chutiwongpeti is an artist who lives and works in various places around the world. His film works and installations are highly personal; a means to make connections between his native country, Thailand, and its culture, and the living aesthetics of a neo-nomadic artist. He has had solo exhibition at the Graz Kunstverein, London Art ...
[read more]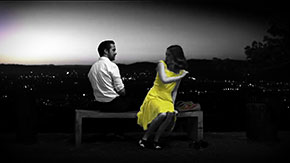 Alejandro thornton
[Argentina - edition: 11]
Bachelor, professor and researcher at the Department of Visual Arts at the National University of Arts (U.N.A.). Lives and works in Buenos Aires. Residences: 2015 - Kosmos Kulltur Foundation (Berlin-Lucerna, Switzerland ). 2014 - Kansas City Artist Residency at KCAC (Kansas City, USA). 2013 - Artist in Residency International Program, Ace ...
[read more]