The 10th edition is start!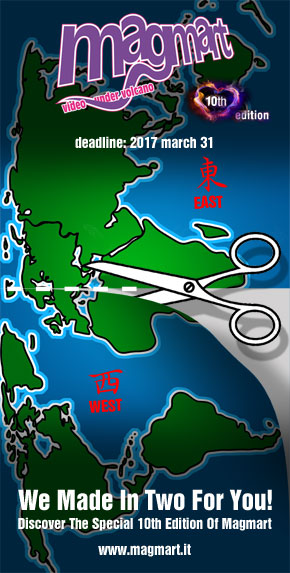 The new edition of
Magmart Festival
, the tithe, is open!
For this is very special edition, the festival
split
itself in two:
WEST
and
EAST
.
All video submitted by countries of Asia and Oceania, will be part of
EAST
, the others - from Europe, Africa and Americas - will be part of
WEST
.
Both
WEST
and
EAST
video will be judged by two different jury, each of which will select 15 artworks. Two exhibit (of all 30 selected video) will have place at the end of festival, in Italy and China.
Read the
rules
and be part of this new episode of
Magmart's good story
!
(2016/06/11)
Videoart Network

A new great initiative by Magmart!
We are currently working on an international project focused on building a network for all videoart-related peoples (artists, curators, spaces, collectors, simply
enthusiasts
).
This will be a useful tool, mainly for all curators that work with videoart. More, it will also contain a large database (of artists and curators), that will be always fully open to
your personal data management
. You can access and modify the stored data, at any time, add new informations, or simply delete your presence. And, obviously,
we'll never use your data for commercial purposes
and won't transfer it to third parties, neither for money nor for free.
Why don't you to take part
, and link to our
videoart database
? Check if your email address is already present, and enter your details. If not, just
register
and insert your data!
The network will be online very soon!
(2016/06/11)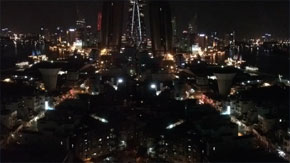 [Germany | west - edition: 10]
[No data]
(2017-01-17)
Sikarnt Skoolisariyaporn (east)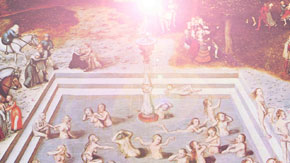 [Thailand | east - edition: 10]
Sikarnt makes art in the state of weightlessness; calculates occult mathematic; practices spinning and falling (level 2.6)
(2017-01-15)
On Google Cultural Institute!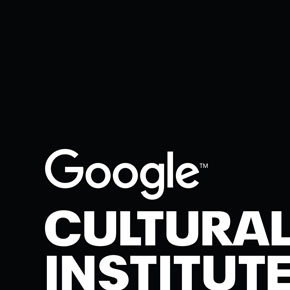 On May 17, 2016,
Magmart
debut on
Google Cultural Institute
!
Our first presence is the
100x100=900 Project
.
Splitted on five
exhibit
, each of which includes 20 of the 100 total artworks.
Next step, will be the 25 artworks of
F.I.V.E.
project, and then the artworks of
FOODS
project.
Finally, the
hall of fame
of
Magmart Festival
: all the selected artworks, from 1st edition of 2005/06 to last.
Look at our
collections
!
(2016/05/18)
Bill Viola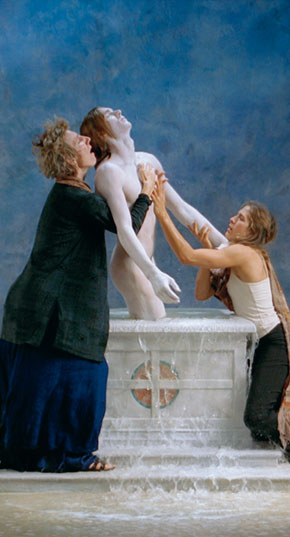 From 10 March to 23 July 2017 the Fondazione Palazzo Strozzi will be introducing the Florentine public to Bill Viola, a significant exhibition celebrating this unchallenged master of video art, presenting works that span his long career, and which resonate with the architecture of Palazzo Strozzi. In order to create a unique experience, the ...
[read more]
www.palazzostrozzi.org
(2017-01-17)
Video Art: Computers extend our brains?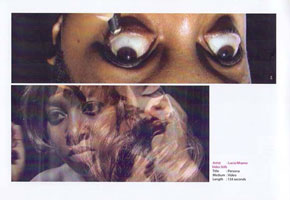 Zimbabwe's contemporary art scene has been characterised by a dynamic list of exceptional artists whose aesthetic innovation and conceptual profundity has made waves both locally and internationally. Using sculpture and painting Zimbabwean artists like Sylvester Mubayi, Tafuma Gutsa, Gareth Nyandoro, Virginia Chihota, Mercy Moyo and many ...
[read more]
www.herald.co.zw
(2017-01-17)
#videoformes2017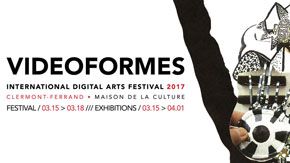 Festival International d'Arts Numériques >> Digital Lounge >> Compétition Internationale et prix VIDEOFORMES 2017 >> Programmes Focus >> Performances et rencontres >> Table ronde EXPOSITIONS // 15/03 > 01/04 (sauf musée Bargoin) - Galerie de l'art du temps / Chapelle de l'Oratoire, 14 rue de l'Oratoire - Salle Gaillard, 2 rue ...
[read more]
videoformes.com
(2017-01-17)
Jason Miller
In the same way a guitarist takes the squealing feedback of a guitar and incorporates it into his music, Jason Miller uses video feedback, color mistakes, warped pictures and ambient sounds to create surreal CRT landscapes, often coupling them with an ambient soundtrack of his own creation. Miller achieves his video art through the use of ...
[read more]
(2017-01-17)
13th Athens Digital Arts Festival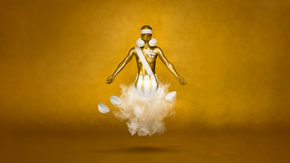 18 - 21 May, 2017 #PostFuture Can you imagine the Future? The future as seen from the past and the past as seen from the future The elusive transition of digital culture is shaping a future 'beyond digital', where the physical and the digital are merging. In the late 90's Negroponte stated that "the digital revolution is over". ...
[read more]
2017.adaf.gr
(2017-01-15)
Iceland's selkie myth gets a makover by video artist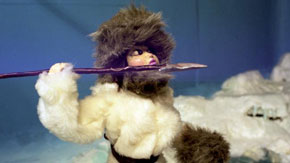 Early one morning in an Icelandic fishing village a man went for a walk along the seashore and came across a cave. From inside the cave he heard singing and dancing, while at the cave's mouth he saw many seal skins. He took one of the skins home and locked it in a chest. The next day the man went back to the cave and there he saw a naked young ...
[read more]
www.theaustralian.com.au
(2017-01-15)
MUFF 12

THE 12TH MONTRÉAL UNDERGROUND FILM FESTIVAL REGISTRATION GUIDELINES DEADLINE February 14th, 2017 Late registration deadline: Late registration deadline: February 28th For late registration, fees apply: $15 (Canadian) payable by PAYPAL: info@muff514.com ELIGIBILITY Independent productions accepted only Films produced, financed, or ...
[read more]
muff514.com
(2017-01-15)