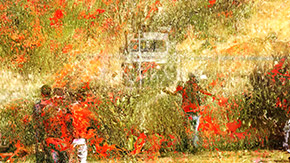 Field of infinity
[Guli Silberstein / United Kingdom - edition: 11]
Inspired by both Italian renaissance paintings and contemporary news broadcasts from Gaza protests at the border with Israel - the work processes human gestures and figures in landscape into a dark and colourful scramble. Following Deleuze and Guattari's concept of 'Plane of immanence', the work aims to open up an array of reflections, including ...
[read more]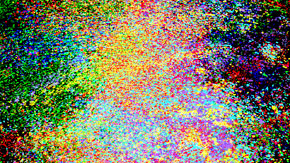 A Murmuration
[Zlatko Cosic / United States - edition: 10]
Abstract explorations of nature.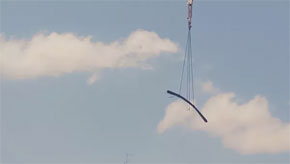 125
[Boris Marinin / Israel - edition: 10]
am calculating the ambivalence of a ponderous machine. Mentally reconstructing this ambience as art piece. Navigating the existence, digging for information. This is the ability to fluently communicate in conceptual sense with those things that are essentially beyond the reach of the five material senses. My art attempts to discern the ...
[read more]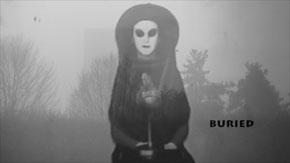 Buried
[Falco Ranuli / Italy - edition: 10]
Half-meta "found footage" video, a genre always practiced and loved by Falco, who finds this a wonderful song of Lagartja Nick, the dark myth of the livornese underground: Dark suggestions to which black and white malevolences Of Falco, always lover of retro tastes. The clip takes a moment away from the misty and obscure Milanese suburbs to mix ...
[read more]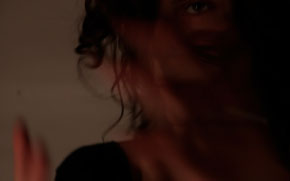 DaBlu (o Dopo Cafuné)
[Nina Terruzzi / Italy - edition: 10]
The video continues a refelction upon the subject of Protection started in 2014. More specifically, it would like to describe the sensation of recognizing the impossibility of self defense and, consequently, resignation in front of the need of going through pain.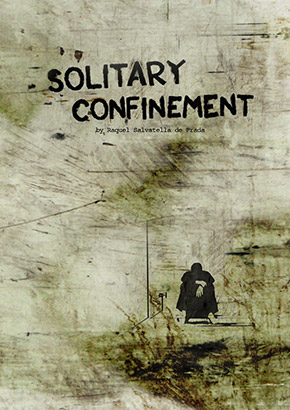 Solitary confinement
[Raquel Salvatella de Prada / Spain - edition: 11]
Solitary Confinement is a visual representation on an excerpt from prisoner Chris McBride's letter to the newspaper Indy Week dated on July 4th 2012. This piece attempts to visually communicate, in less than 2 minutes, the amount of time a prisoner spends in a very small confinement, the minuscule amount of time spent outside the cell and the ...
[read more]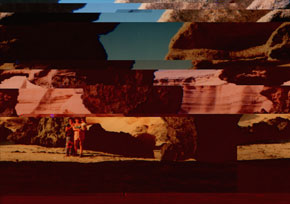 Descomposición Aleatoria
[Karina Rojas Sandoval / Chile - edition: 10]
Family archives around the figure of Lucila. She had Alzheimer's and was the author's grandmother. Corruption of the material as the manifestation of a degenerative disease, set in a visual decomposition process based on the destruction of memory. Dismantled and fragmented memories, unified by the soundtrack.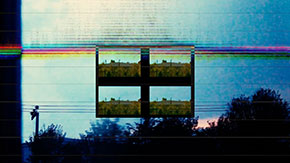 Fountain, not fountain
[Mariana Dianela Torres / Mexico - edition: 11]
Inspired by Tinguely's fountains and sculptures, "Fountain, not fountain" is divided in two parts: "Not fountain" is a machine made by circles, scratch, dust and noise in constant movement, images and sounds are remixed with shots of the Tinguely work. A circle can be found everywhere, from machines to landscapes. "Fountain" is made ...
[read more]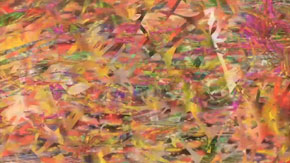 Dolamifa
[Alvaro Ardevol Arbues / Spain - edition: 10]
Abstract composition of image and sound combined.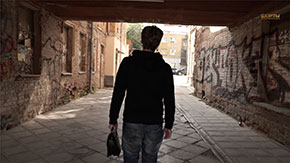 Once...
[Maxim Ustyuzhaninov / Russian Federation - edition: 11]
What could be easier than to hide from the persecution in the yards? And what can be more difficult if all the yards are checkpoints? The paranoia of the main character grows with the transition of the Detroit techno to punk.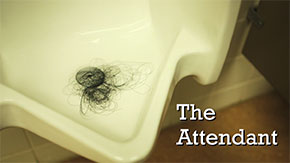 The attendant
[Andrew Belleau / Canada - edition: 11]
The Attendant is a hilarious view of our world, told through the eyes of a bathroom attendant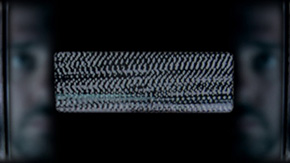 Self-portrait
[Kostas Makrinos / Greece - edition: 11]
An unconscious representation by pixels.