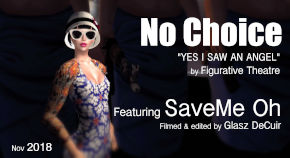 No Choice
[Glasz DeCuir / Spain - edition: 11]
You Have NO CHOICE is an experimental movie filmed and edited by Glasz DeCuir and featuring the artist SaveMe Oh. VideoArt piece exploring the limits of corruption concept. SaveMe Oh is the avatar and character of a dutch theatre director working in virtual worlds with great success. Glasz DeCuir is the identity as filmmaker and screenplay ...
[read more]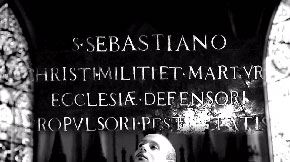 Sebastian
[Ian Geike / Brazil - edition: 10]
In the gardens and interior of the Matriz Church of Saint Sebastian Martyr in the city of Venâncio Aires in Rio Grande do Sul - Brazil, a small sequence of movements structured and fixed by the artist-researcher Étienne Decroux within the Corporeal Mime Technique, performed by the actor-dancer, setting up Saint Sebastian. This repertoire ...
[read more]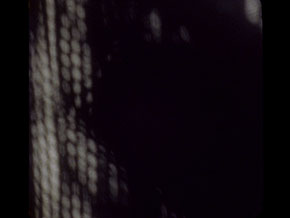 Senses of Time
[Wenhua Shi / China - edition: 11]
Senses of Time depicts the lyrical and poetic passage of time. The work reflects on time and focuses on defining subjective and perceptual time with close attention to stillness, decay, disappearance, and ruins.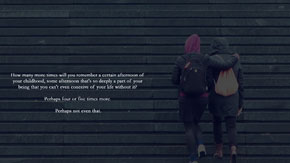 Limits of limitless
[Danilo Stojić / Serbia and Montenegro - edition: 10]
Limits of limitless is an video contemplation of the thought of death and nearness of it, explored by the protagonist, artist Vladislava Savic, while visiting her native country and a museum of a late Yugoslavian dictator and his grave. The atmosphere of contemplation comes throughout presence of personal belongings of a late dictator and its ...
[read more]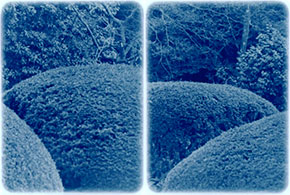 Film loop 31: Shisendo
[Michael Lyons / Japan - edition: 11]
Photographed on 16mm film at Shisendo temple in northeast Kyoto and hand-developed using matcha (powdered green tea). The soundtrack is an excerpt from 'Eunoia' by Stefano de Ponti and Elia Moretti recorded in Torino, Italy. Images from the film loop series were used in studio during the recording of this track. Shisendo (詩仙堂), the 'temple ...
[read more]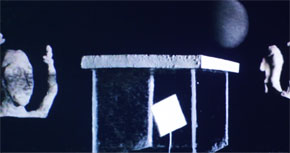 Shopping
[Carl Knickerbocker / United States - edition: 10]
Shot video of projected images and traditional video. Clay, plastic and foam items. Loose narrative based on sound from a convenience market.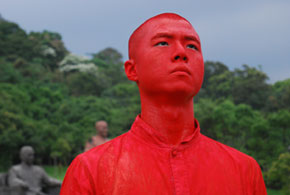 2-28
[Florent Schwartz / Taiwan - edition: 10]
After World War II, the general Chang Kai-Chek founded the actual Republic of China on the island of Taiwan, where he established a real cult of personality. But on February 28, 1947, the island was facing an anti-government uprising. The general replied by a violent repression, which took the lives of more than ten thousand citizens. The ...
[read more]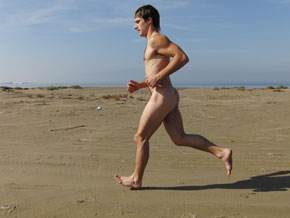 Córrer 2 (Running 2)
[Eloi Biosca / Spain - edition: 10]
A naked man appears running along a pathway in slow motion. This video is a celebration of the beauty of the male nude body as it runs in absolute freedom, in a natural and wild environment. The body movements are a powerful stimulus for the spectator to experience aesthetic pleasure and sensuality.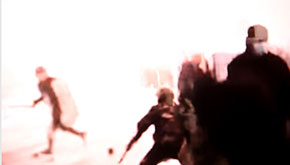 Ab alio
[Iñigo Royo / Spain - edition: 11]
Ab Alio is faithful to the quote by Augusto Monterroso that states: 'There are three topics: love, death and flies'.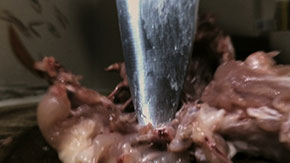 Through
[Veronica Sula / Romania - edition: 11]
I'm against a system that doesn't allow me to develop as I wish. It's the kind of system that wants to teach me what to say and how to say it, without considering my own thoughts and feelings. I'm upset because I'm part of a society that pushes me to the edge. At the same time this system demands me to think ahead before I express myself and this ...
[read more]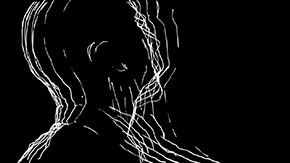 Guster
[John C. Kelley / United States - edition: 11]
Through brief conversations with an adaptive chatbot, a professor sees more clearly his own creativity and depression in this animated short. "GUSTER" is based on actual messages and poetry written by the titular app.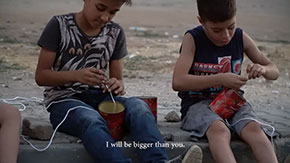 Powerism
[Hamza Kırbas / Turkey - edition: 11]
Since the beginning of history, it is impossible to ignore the existence of a power that, besides the adventure of life of mankind, is all together with us, is constantly changing, brings benefits from time to time, has been created by man and has always existed. This power is the concept of 'powerism' The concept of power, depending on the ...
[read more]