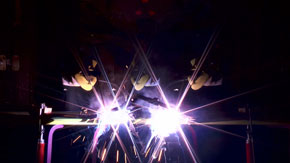 Son et lumiere
[Jean-Michel Rolland / France - edition: 10]
Audiovisual experimentation on the sound and light generated by an arc welding station.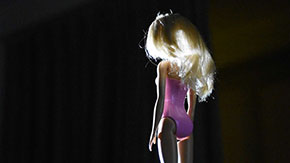 The shameless
[Gustavo Gorzalczany / Argentina - edition: 11]
the turns of the revolving History exposed as layers in present faces, capable of executing and supporting, from their deceptive speeches, shameless and murderer policies that lead to the bareness of the Republic, cynically and hollowly in her name, by applying violence of all kinds, physical and symbolic violence upon the population, among the ...
[read more]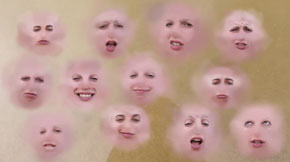 Lauren's Catalogue of Emotions
[Suso Phizer / United States - edition: 10]
I staged an interview to establish a lexicon of the participant's facial expressions. Lauren holds each expression for five seconds and names it. Like the emoji alphabet, Lauren's catalogue attempts to inventory all of her feelings. The project appropriates Kim Kardashian's KIMOJIs, comparing the performance of expressions with Kim's position ...
[read more]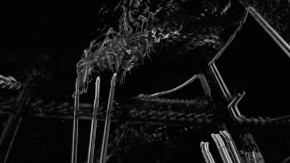 Ritual and Repetition
[Eric Souther / United States - edition: 11]
Ritual and Repetition, 2018 Single Channel Video, 8min 30sec, 1920x1080 Ritual and Repetition was shot in Xiamen at the Nanputuo Temple. The experimental short film examines the ritualistic space of the temple as a site that engages a range of histories and religions (Buddhism and Confucianism), which day after day interacts with crowds of ...
[read more]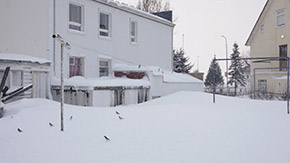 Life would be tragic if it weren't funny
[Jolene Mok / Hong Kong - edition: 11]
A if i were your cat.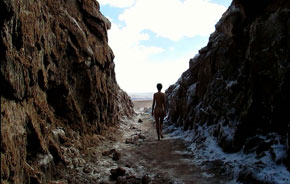 Autofiction
[Vallet Aliénor / France - edition: 10]
The infinity of the desert closes in front of the impossibility of the escape. Inevitable wandering of the exile to oneself . Note of intent Place of all possible, the desert crystallizes the desires, the hopes but this idealized interpretation turns out so misleading. The desert is given as immensity, dimension infinitely opened zone but ...
[read more]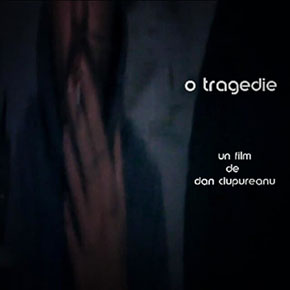 A tragedy
[Dan Ciupureanu / Romania - edition: 11]
A phone conversation witch reveal a drama.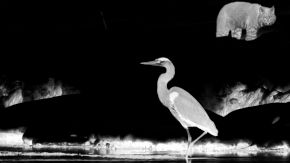 Snow
[Stuart Pound / United Kingdom - edition: 11]
Agile cross-cutting between images shows animals hunting in the snow. The soundtrack is a Roma song celebrating the coming of spring. First shown in the London Film Festival EXPERIMENTA Oct 2017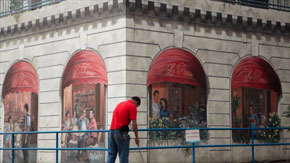 Passage
[Di Hu / China - edition: 10]
This film depicts a geographical, architectural, and urban research study of a specific area in Shanghai. The reason why I chose to depict this area is that it strongly resembles the Grand Palais area in Paris. From an emotional standpoint, I have a deep attachment to both cities, having lived in both for many years. On the more practical side, ...
[read more]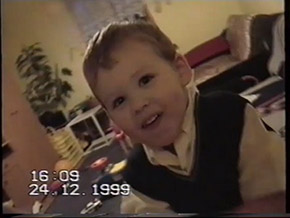 24.12
[Hugo Ljungbäck / Sweden - edition: 11]
2018 was the first year the artist spent Christmas apart from his family. 24.12 is a portrait of his bilingual family's routines and traditions, a collection of fragments and memories.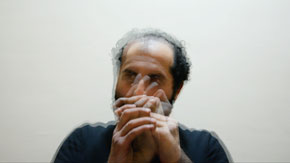 Nylon
[Ahmed Mohsen Mansour / Egypt - edition: 10]
Prevention policy represents one of the ways used in many levels where used by system anywhere to prevent anyone from freedom or express anything during a period of time may be temporary or definitive.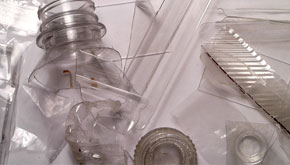 Excess Works
[H. C. Turk / United States - edition: 10]
The nuances of a sound-piece drive the ongoing arrangements of small objects that display a hard visibility despite being clear. As these transparent items arrive and depart, they form numerous abstract compositions linked by dynamic segues.