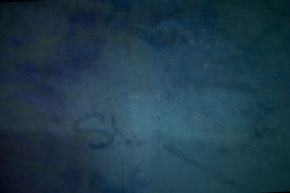 aMIoF
[Andrea Piran / Italy - edition: 10]
The concept: Seeing an image, along with the subject represented, there's another layer that is the effect of what is evoked or implied as feelings or memories. The "mental image" is a way to express this concept: what is outside of an image. The structure: The audio and the video track features contrasts and resonances on a ...
[read more]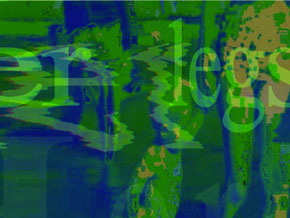 Shes
[Hernán Apablaza / Chile - edition: 10]
Being a woman is an absolutely antinatural act, since to be it one must disown all that is animal to become an object lacking corporal imperfections and subject to he constant judgement of society. Porn, runway, party or death, is always the same. The demand is such that not even in death is it possible for some to free themselves from those ...
[read more]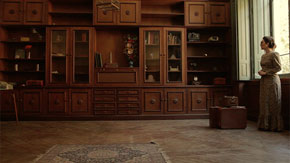 Phantom
[Marcia Beatriz Granero / Brazil - edition: 10]
Jaque Jolene faces ghosts in the building that used to be the first register office in São Paulo (Brazil).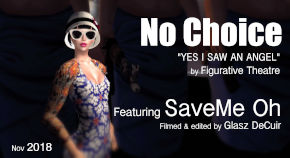 No Choice
[Glasz DeCuir / Spain - edition: 11]
You Have NO CHOICE is an experimental movie filmed and edited by Glasz DeCuir and featuring the artist SaveMe Oh. VideoArt piece exploring the limits of corruption concept. SaveMe Oh is the avatar and character of a dutch theatre director working in virtual worlds with great success. Glasz DeCuir is the identity as filmmaker and screenplay ...
[read more]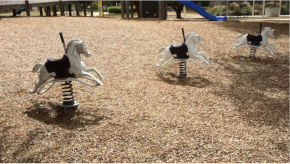 WZ557_Mont1 (2018)
[Ralph Klewitz / United Kingdom - edition: 11]
Fading in from black, the video sequence shows three Melbournian playground horses rocking without human intervention. After a while, the scene fades again to black. The soundtrack is a composed melody comprising of overlaid, paraverbal and distorted computer voices that vary and repeat a musical theme.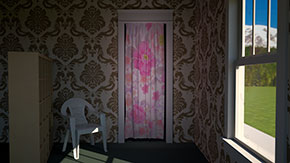 Trespassers, beyond the veil
[Luce Grosjean / France - edition: 11]
In an alternate reality, a two dimensional character explores a three dimensional landscape and discovers something unsettling behind a curtain.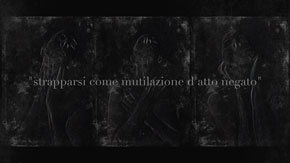 Scratch
[Francesca Bonfatti / Italy - edition: 10]
Project Video "Scratch": The inability to remove the scars hidden. Scrape the surface of things to leave the surface the time of suffering that persists in the soul. The video sequences run in the frame of an area of private personal presence, in which actions mute and painful - as required steps or thresholds of transformation - the limit of ...
[read more]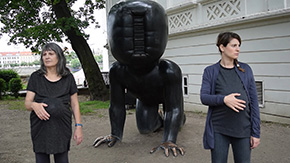 Uri
[Shir Handelsman / Israel - edition: 11]
The work deals with the issue of birth from a critical perspective and tries to ask questions about motherhood and feminine identity. The short video consists entirely of artistic quotations and gestures. It was taken in the city of Prague, at one of the sites featuring a sculpture of a giant baby made by the famous Czech sculptor David Cherney. ...
[read more]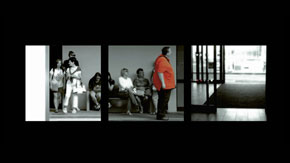 Rastezanje svakodnevnice / Stretching of Daily Life
[Nenad Nedeljkov / Serbia and Montenegro - edition: 10]
This video is a product of contemplation on simple human actions in public space, whether it concerns people in movement or not. Through the process, I have established the connection and simultaneity among any of these actions, as well as unity within each individual action. This specific kind of collage need to provide a new sight on our ...
[read more]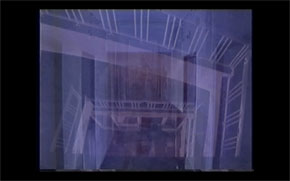 Nido de huérfanos (Remix&Repent)
[Alberto Varet Pascual / Spain - edition: 10]
The rest of an old footage has been recovered. It is the story of a murderer inside a normal guy. Also the story of some ghosts lost in time: presences and non-presences that remain attached to a space and a moment that vanish in memory.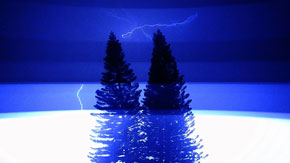 Blue night
[Nelton Pellenz / Brazil - edition: 10]
Blue Night is meant to lead the observer to some sensory impressions experienced during a storm, at that hour and ten from winds to over a hundred, where the end times seemed to be right there in the window of my room. The sound design proposes a walk between memories and predictions, between reality and fiction. Human actions and nature sounds ...
[read more]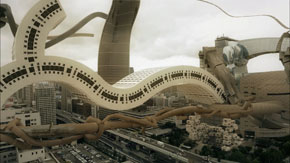 Spatial Bodies
[AUJIK/Stefan Larsson / Japan - edition: 10]
Spatial Bodies depicts the urban landscape and architectural bodies as an autonomous living and self replicating organism. Domesticated and cultivated only by its own nature. A vast concrete vegetation, oscillating between order and chaos. Music specially composed by Daisuke Tanabe. Filmed in Osaka, Japan. First price award "Film ...
[read more]