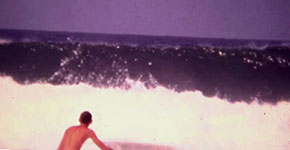 Waves
[Sami Ala / Finland - edition: 11]
It is hard to get up and ride on a wave. This is a visual metaphor for life, subconsciousness, death and consciousness.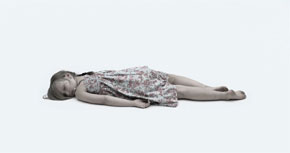 Those dying then
[Andreas Mares / Austria - edition: 10]
The video "Those - Dying Then" takes the spectator back to the summer of 2015 when we were confronted with the terrible pictures of a never ending migrant influx; it is thus in direct opposition to the society of massculture which markets events like these shamelessly. Three children, Emil, Mia and Paula, seemingly asleep by the sound of the ...
[read more]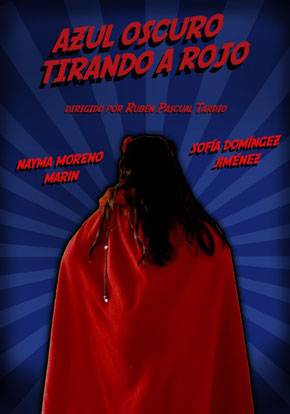 Azul oscuro tirando a rojo
[Rubén Pascual Tardìo / Spain - edition: 10]
An introverted girl loves the superhero movies and play on your house.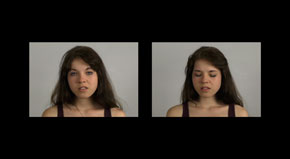 Pneuma
[Christoph Korn / Germany - edition: 10]
On the left side of this video, one can hear and see a person uttering individual parts of the body (head, eye, mouth, face, neck, arm, hand, finger, chest, back, leg, foot). Then, afterwards, the soundtrack of this video was played back in the recording studio and the person was asked to listen to the soundtrack with her eyes closed (right ...
[read more]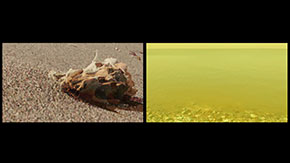 Finitude & Emptiness
[Jerónimo Veroa / Argentina - edition: 11]
These two works, individual, were designed to be exhibited jointly. For the show "Tres" at the Cultural Center of Memory Haroldo Conti, Buenos Aires (2018/19), I have decided that it is a single-channel video, so I present it here as well. vacuidad contra paisaje / emptiness against landscape 2´ 00´´ _ 2016 Mono-channel video, Without ...
[read more]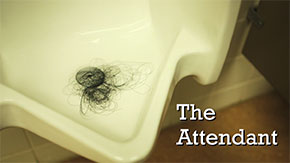 The attendant
[Andrew Belleau / Canada - edition: 11]
The Attendant is a hilarious view of our world, told through the eyes of a bathroom attendant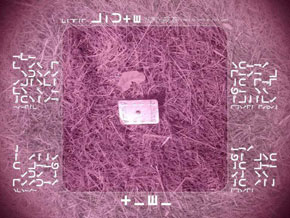 Lost civilization of the vessels
[Benna G. Maris / Italy - edition: 10]
lost civilization of the vessels, 2009 Single-channel audio-visual, SD 4:3 Stereo, 5'10" As a file of mysterious and alien origins, this artwork displays the finds of what it seems, to the eyes of exotic archaeologists, a civilization suddenly disappeared and incomprehensible, which remains are nothing but debris of toxic substances and ...
[read more]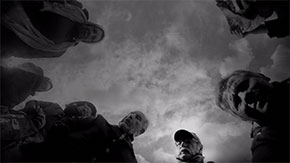 Le murmure des choses
[Michel Pavlou / Norway - edition: 11]
Scenes of flea-markets in the streets of Thessaloniki, Madrid and Brussels compose the film narrative. Combining opposite points of view, still and moving images, the camera becomes the "eye of the hand" that carries it; it is gliding between people and objects creating unexpected dialogues.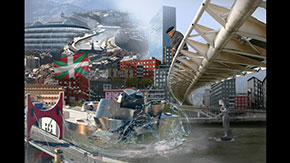 Travel notebooks: Bilbo, Bizkaia - Spain
[Silvia De Gennaro / Italy - edition: 11]
Futuristic architecture consisting of imaginary animals from cosmic prehistory moves in an atmosphere that combines fantasy with industry. Bilbao, a city with a strong identity, a mixture of ancient values and fascination with progress. But who really are its inhabitants ? Where do they come from? Bilbo is part of an ongoing project on ...
[read more]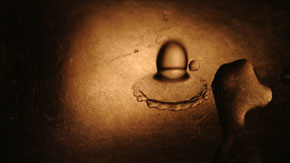 This is the title
[H. C. Turk / United States - edition: 10]
A pipette splashes water against a convex stainless steel serving spoon. The sound track's elements try not to correspond to the drips. The concept manifested is: Look nice, sound good.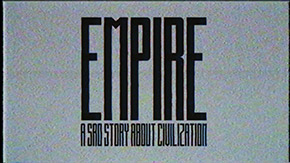 Empire - a sad story about civilization
[Matteo Campulla / Italy - edition: 11]
The concept beyond "EMPIRE" is inspired by the construction of the first seven plans building in Assemini in the second half of the 60s, nicknamed by many at that time "the skyscraper", built on the edge of a popular neighborhood. A district, called "Montelepre", as the homonym Sicilian country that gave birth to the bandit Salvatore Giuliano, ...
[read more]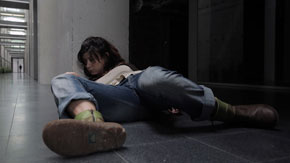 Rêve General
[Dave Lojek & Linda Hecquet / Germany - edition: 10]
Four confused immigration canditates explore a large empty building. They speak four languages. Why does the telephone not work? Why is the money erased? Where are they going? This political architecture dramedy raises issues of religion, migration, and resistance. It is the first film of author and co-director Linda Hecquet and was produced at ...
[read more]