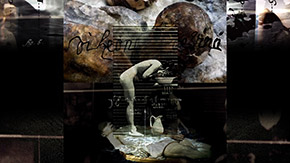 Anatomy of waters
[Roland Quelven / France - edition: 11]
"Hardness and strength are death's companions. Pliancy and weakness are expressions of the freshness of being"."Stalker's Prayer" quotes from the Tao Te Ching 15 Loops as 15 Mind–body dualism Mind is for Death's companions_Images Body is for The freshness of being_Waters. MIND> The word image comes from the Latin imago, which ...
[read more]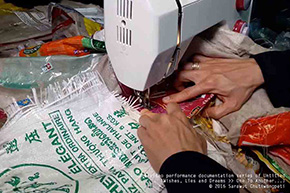 One to another
[Sarawut Chutiwongpeti / Thailand - edition: 11]
My artwork focuses on personal and larger issues of cultural transformation related to global mobility and the precarious situation of the neo-nomadic artist. Living in Littau, yet often shopping in Emmen for the ingredients to prepare traditional Thai meals, in my installation I will incorporate packaging, mainly from food products, that I ...
[read more]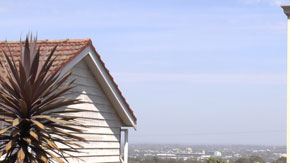 In proximity
[David Anthony Sant / Australia - edition: 10]
Contradictions have been resolved and a rapport has been reached. A visual dialect has been invented. A proclamation has been made. An overfamiliar locale has told me how it must be filmed. I have approached it, and it in turn has obliged.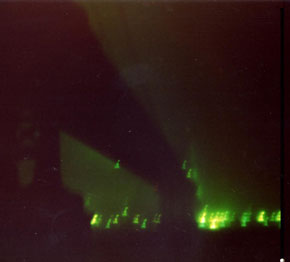 Last Church
[Milu Grutta / Spain - edition: 10]
A priest of sorts celebrates mass in an abandoned church. We are in a post apocalypse future, and the priest is not feeling quite himself. Eventually an higher entity will come to assist him and offer him redemption and solace. Will the priest be able to absorb the teachings and the holy communion that comes with them?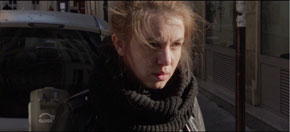 Ma Maison
[Uriel Jaouen Zrehen / France - edition: 10]
A young russian migrant disoriented. An old maniac and depressed woman. Two loneliness. The same need.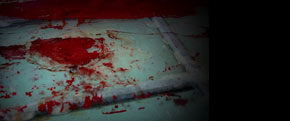 Heterochronies
[Isabel Pérez del Pulgar / Spain - edition: 10]
The heterotopia juxtaposes in a real place, spaces that would normally be, or should be incompatible. They are often linked to unusual cuts time, heterochronies. As layers of mirrors, both images and sounds are juxtaposed sailing between real and invented, among the dream-fiction and subjective experience. Contradictory images and sounds that ...
[read more]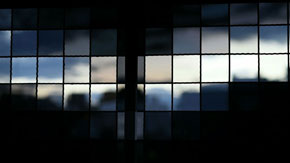 Composición nro. 1
[Rodrigo Noya / Argentina - edition: 10]
Research on time, its passing and perception. Composing from fragments of the recorded image and the space, other space made possible from the screen.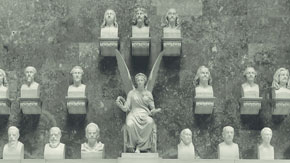 Les ambulantes
[Aurelien Dupuis / Belgium - edition: 10]
At the edges They become mist undetectable particles wanderer's thoughts.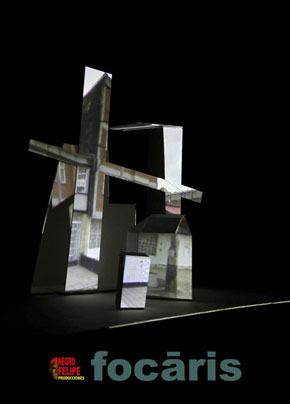 Focãris
[Juan Alonso + Nicolás Rico / Colombia - edition: 10]
"Focaris" is a reflection on memory and cities. Taking pictures in Google SV of places I have inhabited along my life course, I built a series of cardboard mockups and on them we projected our houses, the homes in which I have dwelled ("focaris" means "home" in Latin). Hence, this Project is about the deformation of memory but it is ...
[read more]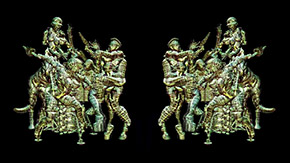 Moon dollar battle stereo scenes
[Christian Zanotto / Netherlands - edition: 11]
Four virtual sculptural groups, each in turn composed of four figures which are laced in poses of struggle and combat, stand on a black background and confront each other in a paradoxical battle against the own "doubles". The texture of the dollar bill covers every depicted element, from the hybrid characters to the weapons and the machines which ...
[read more]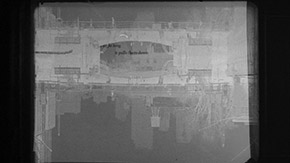 Reasonable watchfulness
[Talena Sanders / United States - edition: 11]
A diary film; transitions while longing for other places and people, like a fox on the run.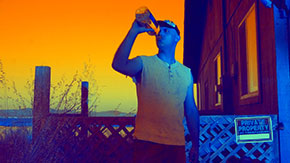 Primal
[Marco Fontichiari / Italy - edition: 11]
Primal is a video that documents the layers of individual memories and how events take place from a subjective point of view. The stories originate from encounters that the videomaker had during his 4293 KM walk across the USA. The footage is a mix from an archive of the videomaker's life and re-enactments of the encounters he had during his ...
[read more]