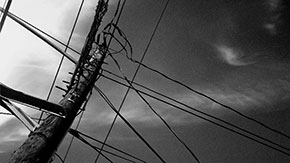 Before the eyes
[Simon Šerc & Martina Testen / Slovenia - edition: 11]
Sometimes he didn't know whether this image was the result of his reasoning from the long-term observations of events or a terrible magnification of his own inner self. (Vladimir Bartol) The premonition of spore power and fragility of giants creates a feeling of weakness and a fear of being trapped into multilayered systems. The stringing of ...
[read more]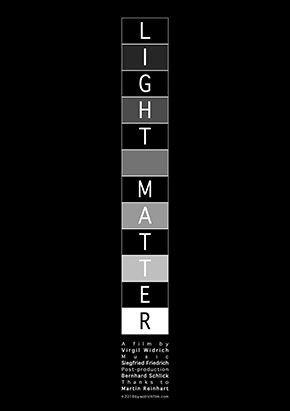 Light matter
[Virgil Widrich / Austria - edition: 11]
A black-and-white film that lets you see colors. Attention! This film contains flashing lights which may not be suitable for light-sensitive epilepsy. Initially barely noticeable, the first dim flashes of light become continuously brighter and more intense over a period of five minutes. Towards the end they become a staccato of light and ...
[read more]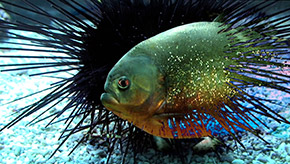 La plage
[Inés Wickmann / France - edition: 11]
A singular look on a city that moves away from tourist proposals.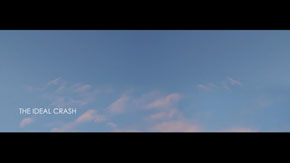 The ideal crash
[Roberto Voorbij / Netherlands - edition: 10]
Short film that plays with the viewers expectation.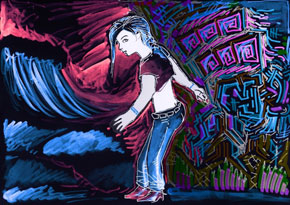 Bleu, blanc, pourpre & néonville
[Roy Clément / France - edition: 10]
Some young women some boys and a cat step into a blue white and purple world...then this world changes it's own nature into some virtual spaces where they meet a seducing artificial intelligence. flying into these colored spaces listening to the harp songs The boy is questionning his own feelings about the love he has for a graceful girl.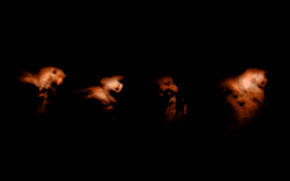 Choices
[Vicent Gisbert Soler / Germany - edition: 10]
Choices is a piece created with the aim to involve the viewer forcing him constantly to choose provoking that his eyes move to search on the screen. My intention is that these organs lose part of their control to encourage the experimentation the imagination and the reflection using suggestive images. In this way the relation of the audience with ...
[read more]
La petizione di Arianna
[Jasna Ruljancic / France - edition: 10]
Video inspired by the aria " Il Lamento di Arianna" (Ariandne's Complaint) by Claudio Monteverdi. Ariadne, mythological figure symbol of an unattainable and mysterious woman, ask to kill the the image of beauty that immure her.

Clean thought
[Athanasios Alexopoulos / Italy - edition: 10]
I don't care about the result, the technique or the direction; i just listen to the music and i film. I follow the moment. We play with shadows or with a balloon; the kids watching us like we are strangers.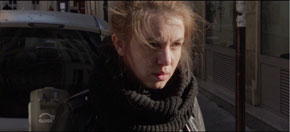 Ma Maison
[Uriel Jaouen Zrehen / France - edition: 10]
A young russian migrant disoriented. An old maniac and depressed woman. Two loneliness. The same need.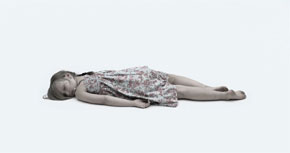 Those dying then
[Andreas Mares / Austria - edition: 10]
The video "Those - Dying Then" takes the spectator back to the summer of 2015 when we were confronted with the terrible pictures of a never ending migrant influx; it is thus in direct opposition to the society of massculture which markets events like these shamelessly. Three children, Emil, Mia and Paula, seemingly asleep by the sound of the ...
[read more]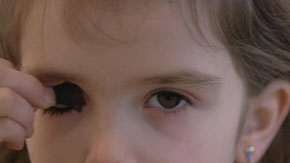 Composition in color
[Harm Van Den Berg & Pepe Smit / Netherlands - edition: 10]
Composition in Color is a short film by the artist duo Pépé Smit and Harm van den Berg. Two young girls are seen applying make up to their faces in front of a mirror the action is shown in slow motion. The first girl is six years old her gestures are still a bit clumsy and awkward but she is serious and concentrated. The other girl is aged ...
[read more]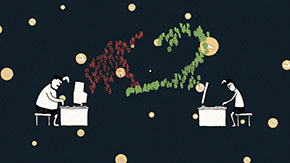 War for keyboard warriors
[Can-Zhao Lam / China - edition: 11]
The Keyboard Warrior seeks to use the power imbued in his 'weapon' to effect death and destruction upon his foes. In essence, the keyboard allows the keyboard warrior to manifest his true warrior nature in a safe and removed environment, from which no real-life repercussions.