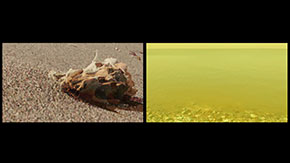 Finitude & Emptiness
[Jerónimo Veroa / Argentina - edition: 11]
These two works, individual, were designed to be exhibited jointly. For the show "Tres" at the Cultural Center of Memory Haroldo Conti, Buenos Aires (2018/19), I have decided that it is a single-channel video, so I present it here as well. vacuidad contra paisaje / emptiness against landscape 2´ 00´´ _ 2016 Mono-channel video, Without ...
[read more]
Blackman
[Donya Hajizadeh / Iran - edition: 10]
The dark universe, From behind the recurrence of black ideas, I won't keep silent.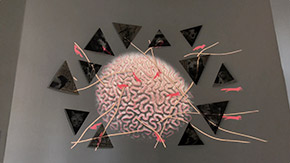 Reynard the fox
[Maria Korporal / Germany - edition: 11]
Korporal Zoo X: "Reynard the Fox". Video installation with 12 triangular canvases (digital prints with manual intervention), and a video projection playing with all elements. Reynard is the main character in a literary cycle of allegorical Dutch, English, French and German fables. Those stories are largely concerned with Reynard, an ...
[read more]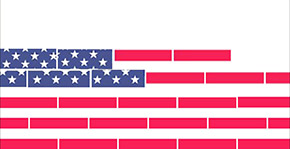 The wall
[Noel Molloy / Ireland - edition: 11]
FLAG OR JUST ANOTHER BRICK FOR THE WALL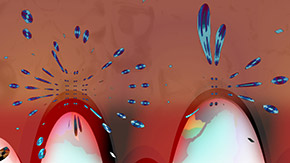 Fingering the drift
[Laurel Beckman / United States - edition: 11]
Against a backdrop of 3 billion years of speculative Continental drift- past, present and future, missiles from 5 fingers aim to shape the planet. Weapons of spirit as much as matter, the ring, smoke, teacup, torpedo/dildo, and thumbs up/down die, are timeless influencers inside us all, reckoning with change and trust across the ...
[read more]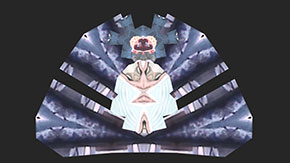 Deus1
[Rafael de Toledo / Brazil - edition: 11]
deus1 is a modern age icon.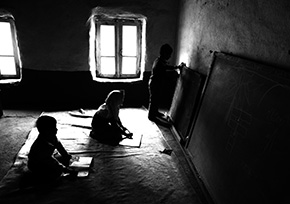 Light
[Reza Golchin / Iran - edition: 11]
This video shows children and schools in the Talesh city mountains(North of Iran)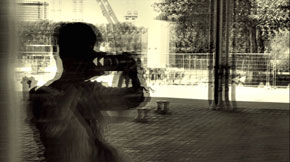 I & them
[Tamara Lai / Belgium - edition: 10]
Video Poem & Music. The music and the poems were created around 2000. The musicians performed separately, none knowing what the other was doing. The poems were written as a virtual dialog.
Lightning chess
[Hermann Leitner / Austria - edition: 10]
18 turns – 18 places! Asynchrony exemplified by a speed-chess game: Lorente vs. Montanez, Malaga 1999. 1.e4 Nf6 2.e5 Nd5 3.Nf3 d6 4.Bc4 Nb6 5.Bxf7+ Kxf7 6.Ng5+ Kg8 7.Qf3 Qe8 8.e6 Nc6 9.Qf7+ 1-0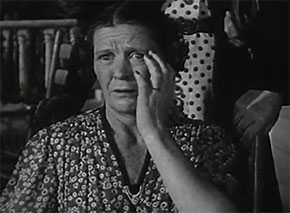 Sonata
[Randa Megahed / Egypt - edition: 11]
It's a reflection on humanity and the reality of our world as well as the reality of our nature. we are born, we go through life, we die. there's noise and there's silence. there are moments that fly by and others that never seem to end. Life is breath, feelings, actions, time and so many things all dancing together. life is a big sonata. ...
[read more]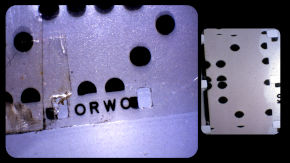 ORWO
[Stuart Pound / United Kingdom - edition: 10]
The film here is one I made in 1972. The surface is easily marked. I scratch the image off with a needle then sweep away the dust emulsion. I record this using a low magnification microscope USB connected. Selected for EXPERIMENTA, London Film Festival 2015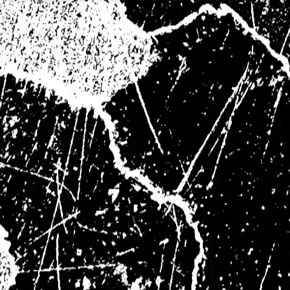 Cthulhu Regio Entropy
[Flavio Carvalho / Brazil - edition: 10]
Synopsis: A probe launched. A flyby over "Cthulhu Regio" in Pluto. Data lost. "Cthulhu Regio Entropy" was made with digital microscope, processed with ReacTIVision software and realized with databending techniques and stop motion animation. The audio is a mix of generative music with sampler. It was made in real time according to video ...
[read more]