Read the
rules
and submit your video within 05/01/19!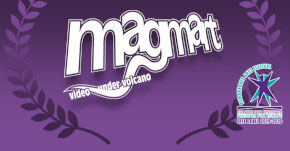 Magmart XI ed. - extended deadline!
The edition 2018/2019 of
Magmart
, the XI of our story, is start! Submit your video(s) from now, until may 2019. Read the
rules
and become part of our good story!
We'll wait for your submission...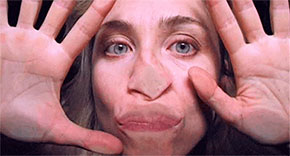 Open My Glade
PIPILOTTI RIST Åbn min lysning (Open My Glade) 1.3.2019 - 23.6.2019 A blast full of colours, immersive images and sensuous dreamscapes. With the first major presentation in Scandinavia of Swiss artist Pipilotti Rist, the exhibition in the museum's South Wing presents the work of one of visual art's most conspicuous researchers of the senses ...
[read more]
www.louisiana.dk
(2019-03-18)

Interview with Pipilotti Rist
Sensual, sensory, and multi-format macrocosms are the specific speciality of swiss artist pipilotti rist. for the past thirty years, rist has forged an introspective investigation of the moving image, working across a broad spectrum of video technologies whose conventions and limitations she both explores and explodes. taking a painterly and ...
[read more]
www.designboom.com
(2019-03-18)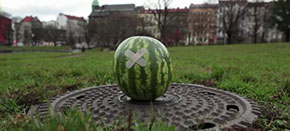 #comment #fiction #document
Video art works from the Sofia City Art Gallery collection 12 March 2019 - 14 April 2019 Olivier Bardin, Mariana Vassileva, Daniela Kostova, Cvetan Krastev, Kiril Kuzmanov, Nadezhda Oleg Lyahova, Ivan Moudov, Adelina Popnedeleva, Rassim, Kalin Serapionov, Nedko Solakov, Kamen Stoyanov, Krassimir Terziev The exhibition comprises a selection of ...
[read more]
www.sghg.bg
(2019-03-18)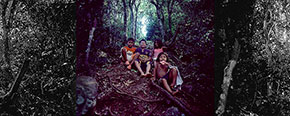 Imagined Communities
21st Contemporary Art Biennial Sesc_Videobrasil 9 October 2019 - 2 February 2020 Preview: 8 October 2019 São Paulo, Brazil Title: Imagined Communities Artistic director: Solange Farkas Curatorial team: Gabriel Bogossian, Luisa Duarte, Miguel López Associação Cultural Videobrasil and Sesc São Paulo announce the list of fifty-five ...
[read more]
universes.art
(2019-03-18)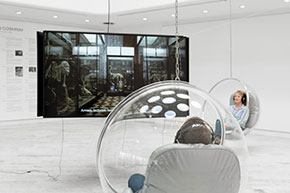 This is Cosmos
Death is a mistake. Instead, propounded the Russian philosopher Nikolai Fedorov (1829–1903), mankind should aim for eternal and interplanetary life. As artist Anton Vidokle sums up Fedorov's position in his Immortality For All: a film trilogy on Russian Cosmism: "Because true social equality means immortality for all […] we must resurrect ...
[read more]
tranen.nu
(2019-03-15)

Artificial Landscape
SOGO'S GIGANTIC SCREEN SHOWS VIDEO ART The enormous video billboard above the entrance of the Sogo department store in Causeway Bay screens thought-provoking works by four video artists for a project curated by Videotage. Description Curated by Videotage's Issac Leung, a practising artist, curator, and scholar in art and culture, ...
[read more]
videotage.org.hk
(2019-03-15)