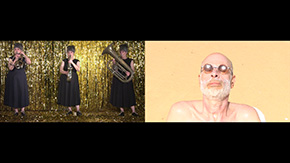 Morendo
[Shir Handelsman / Israel - edition: 11]
The film presents a testimony of a random and accidental encounter that took place about a year ago, between a former couple, the divorced parents of the artist. The meeting of the couple, who had been married for twenty years, took place at a gas station in the city of Tel Aviv, after they had not spoken or seen each other for six years. What ...
[read more]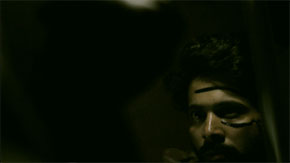 Mirror theory
[Sathwik Hande P S / India - edition: 11]
This short film is about religious intolerance. The 'black army' that celebrates negativities from all the religions, influence a man to kill a Buddhist monk and Succeed in the assault. As per their tradition they are to paint their faces with Black colour as an indication of having joined the Black army. Finally mirror reveals the truth of life ...
[read more]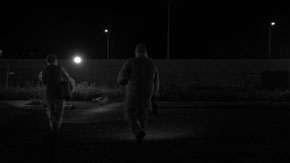 Santa Teresa
[Emanuele Dainotti & Alessandro G. Capuzzi / Italy - edition: 10]
SANTA TERESA (Italy, 2016) by Alessandro G. Capuzzi & Emanuele Dainotti - BEST SHORT, 41th Laceno D'oro Film Festival (Italy) - SCREENING, XIV Mostra del video d'autore Avvistamenti (Italy) Sinossi Santa Teresa è una città del nord del Messico. Dal 1993 al 2003 sono stati commessi più di 300 omicidi (a sfondo sessuale) ai ...
[read more]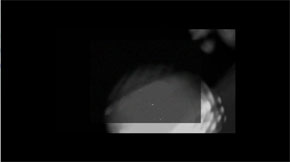 In between
[Theodora Prassa / Greece - edition: 10]
The video with the theme (in between) has to do with the intermediate of ourselves with the other elements of our environment. As intermediate we chose reflections generated between light and ourselves. This results in creating various abstract elements, relationships and forms, transforming games with the space and they create a visual ...
[read more]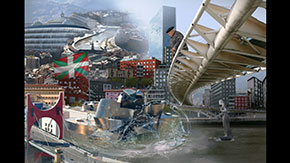 Travel notebooks: Bilbo, Bizkaia - Spain
[Silvia De Gennaro / Italy - edition: 11]
Futuristic architecture consisting of imaginary animals from cosmic prehistory moves in an atmosphere that combines fantasy with industry. Bilbao, a city with a strong identity, a mixture of ancient values and fascination with progress. But who really are its inhabitants ? Where do they come from? Bilbo is part of an ongoing project on ...
[read more]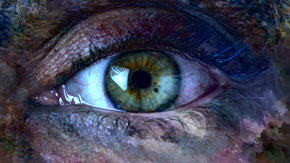 [video]
[Samuel Bester / France - edition: 10]
[video]: I see, I grab with my eyesight. What I see is transmitted by a media that codes/transcribes the visible and the audible into a signal to transmit and restore faithfully the original message. But in the encoding and retransmission occur errors and interpretations. Errors are corrected by assumption and habit. But what if errors were ...
[read more]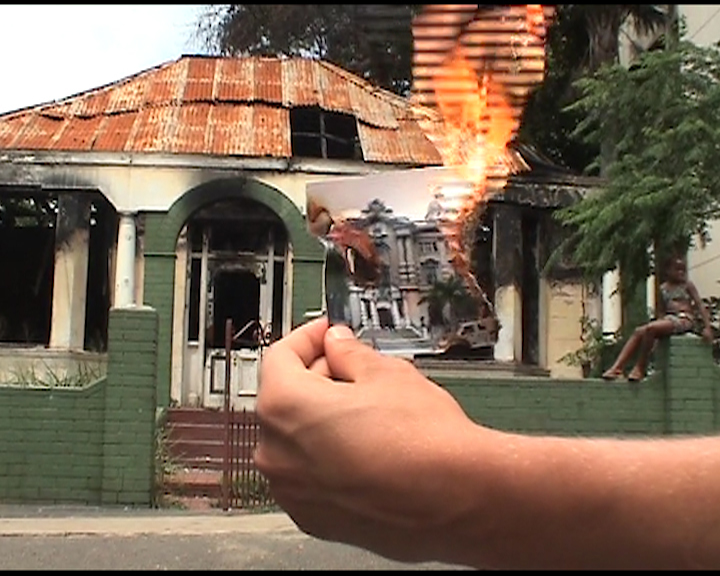 A burnet house
[Joacélio Batista / Brazil - edition: 11]
In December 2004 in the city of Durban, South Africa, there were two houses burned. One in front of my eyes and the other in my deepest desire.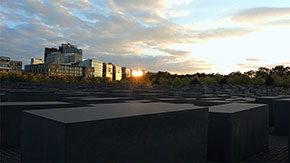 Holocaust monumentHolocaust monument
[Patricio Ballesteros Ledesma / Argentina - edition: 11]
On the right, the sun falls on the grove of the Tiergarten and announces the sunset of the day. On the opposite side of that huge park are the office and apartment buildings. Artifice gains height in nature. Therefore, in the center the twilight is still reflected brightly on the windows. To the front the enormous and opaque testimony of a past ...
[read more]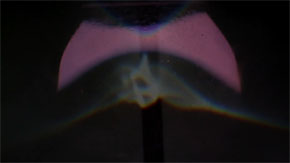 Monoton red-colored Gnome
[Vera Sebert / Austria - edition: 10]
Text fragments and moving lights appear, shaped like abstracted aquariums, windows and screens, overlaying each other and disappearing into a black and endless room. Inside a sphere that neither consists of air nor water, our view is banished by the glowing composition and entraped into an absent- minded and hypnotised stare. The strange sound of ...
[read more]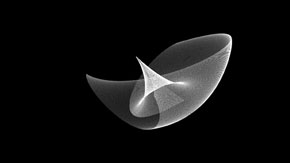 Line
[Andrea Leoni / Italy - edition: 10]
A line develops and marks its surrounding space in search of a composition strategy: it multiplies, enlarges, stretches increasing its size up to create more and more complex shapes. It invades all the space around striving to expand further, yet it will go all the way back, forced by a representation limit, to its simple and basic initial state. ...
[read more]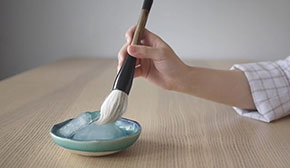 Nothing Remains
[Hong Yane Wang and Hua Wang / China - edition: 11]
A calligrapher writes with ice instead of ink. Her ephemeral calligraphy reads 'ice melts, tiles crumble - nothing remains', a Chinese quote from two thousands years ago, which carries new significance in the age of global warming and climate change, when the polar ice is melting faster than ever.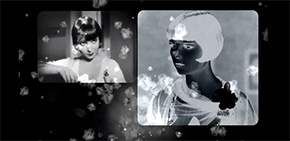 Hopeless
[Stuart Pound / United Kingdom - edition: 11]
Pandora's Box and unrequited love for Louise Brooks. Music by Evangelista