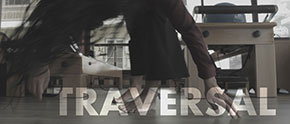 Traversal (Series 1)
[daz disley / United Kingdom - edition: 11]
Traversal : because sometimes, it's better not to grow up, but instead to grow sideways. An anthology series of short video-dance pieces, working with dancers/movers from a variety of backgrounds. Traversal looks at sideways movement and growth as opposed to the normative vertical growth associated with modern career structures, and how we ...
[read more]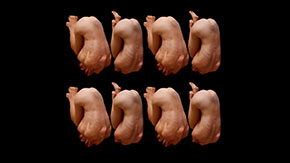 Inertness
[Izabella Retkowska / Poland - edition: 11]
Congestion seemingly different, but basically the same stimulus triggers unification audience. Unification does not give a chance to fully develop. Injecting the civilizational and cultural framework creates a semblance of security. Passivity leads to infinite multiplication of similarities and loss of individuality. Lack of diversity causes ...
[read more]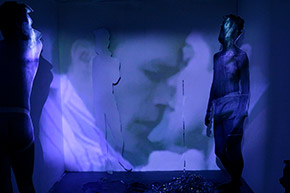 If she can sleep through this storm she can sleep through anything
[FC Izaac / United Kingdom - edition: 11]
This is a video collage looking at the romanticisation and fetishisation of married straight men in gay media; looking at desire, intimacy and unrequited love.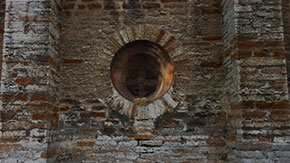 Urbanimatio
[Hardi Volmer / Estonia - edition: 11]
This film is a poetical portrayal of the evolution and devolution, ageing yet also constant regeneration of an anonymous city sphere. Its only companion and support is the music, which draws its rhythmic structures from the surrounding buildings and architectonic cadences. It makes visible by magic the dynamics of the coexistence of stone, ...
[read more]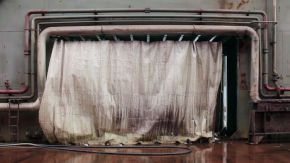 Stale
[Hatice Duygu Artüz / Turkey - edition: 11]
STALE Everything vibrates! Every cell in the human body, every disease, every virus, every request, every emotion… Does a person rely on irregular and uncertain dialogues? Avoid from the definitive flow? Is a person mistaken that vibration and resonance evolve into a pure reality? When his imitiation tragadies come accross with pure ...
[read more]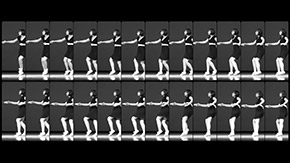 Boogie Stomp Pink
[Stuart Pound / United Kingdom - edition: 11]
A Boogie dance performed by William & Maeva was downloaded from the internet and vertical sections taken from each frame arranged into 24 panels to show pattern and movement across each second. First shown at the Ottawa International Animation Festival in Sept 2017.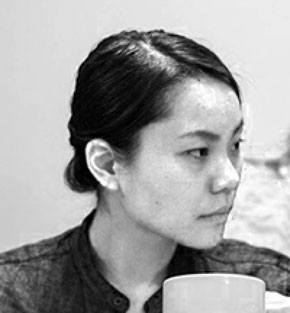 A face
[Yuyen Lin / Germany - edition: 10]
Hiding behind a wall of hair the protagonist lives her faceless life. To show one's face without showing one's self? Seems to be possible on facebook.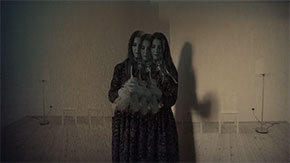 Desenredar
[Isabel Pérez del Pulgar / France - edition: 11]
Desenredar, desenmarañar, desembrollar, desatar, desenlazar, desligar, librar, soltar, liberar, ordenar, arreglar, aclarar, atar, cardar, carmenar, desembrollar, desenlazar, desovillar, enredar, liberar, oscurecer .... Put in order something confusing and messy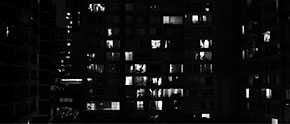 Caged rats
[Vallet Aliénor / France - edition: 11]
Caged rats proposes a contemplative experience as a refusal of the cult of performance and a criticism of the hyperactivity of our society. « The [performant] subject wears out as in a hamster wheel which always turns faster. (…) He is subject to nobody except to himself. He exploits him-self. The capitalist system moves from third-party ...
[read more]
Perla del Atlántico
[Candela Del Valle / Argentina - edition: 10]
In the beginning of XX century, Mar del Plata was the first tourism beach. The Biarritz from the south. All the reminisce from aristocracy traces mix up with the popular tourism that arrived in the 50´s and grow exponencial to the present, displacing them to another beaches. The tourism places are transformed in mirrors that reflects the ...
[read more]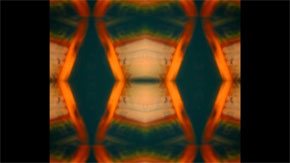 dreams
[Flavio Fassio / Italy - edition: 10]
This Video was produced by me, just with a phone used like a brush. I like the Video because the atmosphere is really this of the of Dreams, thanks a lot to my Friend Lobo Loco for his terrific Music, we have worked separately, not connect each other, but I found that his music seems to be perfectly shaped for my Visual #Dreams.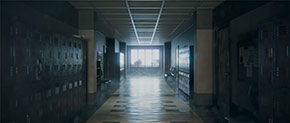 Monachopsis
[Luce Grosjean / France - edition: 11]
Inspired by John Koenig's The Dictionary of Obscure Sorrows, this experimental short film narrates a life passively stuck in a depressive loop, trying to stay afloat. Being part of a bigger puzzle, with no matching pieces around, and every day feels like yesterday, again and again. Through mood, space and sound, we follow this life's ...
[read more]